5 Ways To Market Your Pet Business Online in Less Than 10 Minutes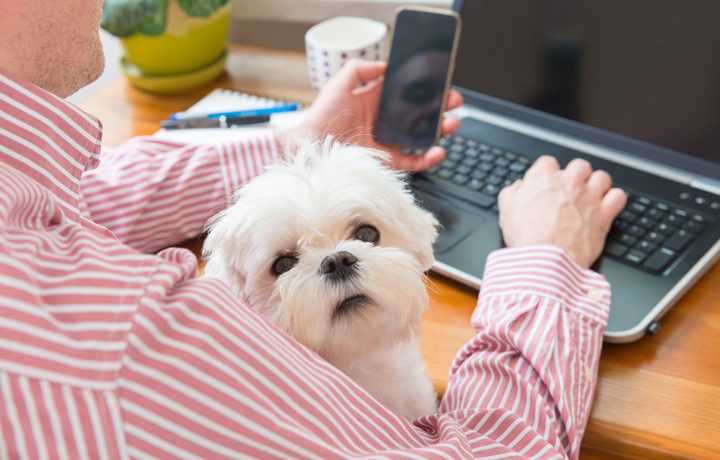 Competition is fierce out there, especially in the pet industry. Now is the time for your pet business to stand out and get ahead!
The majority of pet owners in America are millennials. This generation is willing to spend A LOT of money on their pets! Not only that, but a recent study indicated  44% of millennials consider their pets to be "starter children." It's more important than ever to increase your visibility online to reach them. After all, they're the first generation to grow up with technology.
It may seem overwhelming to think about what this shift means for your business. But, you don't need to spend endless hours of time or thousands of extra dollars in order to better market your business.
Each of the five steps below can be ticked off in less than 10 minutes. You can do it!
1. Create call-to-actions (CTA's) on your website
Add buttons throughout your website that encourages visitors to sign up for your email list, book an appointment, or attend your event.
The point here is to make your website visitor take action. A lot of pet businesses will only have one button hidden on their contact page. You need more!
Where to put your website CTA:
Homepage:

Embed a signup form telling customers to stay up to date with your business by joining your email list.

Services Page:

Insert a button that says "schedule a call/tour" or "make a booking request."

Header/Footer

: Create a simple "book now" button here so it becomes visible on every page.
Where to put your social media CTA:
The point of having your business on social media is to make personal connections with your customers and get them to take action, which most likely is some way to contact you. The bottom line here is making it as EASY as possible for a follower/viewer to become a customer, otherwise they'll go elsewhere.
Action Step: Add call-to-actions on your Facebook business page, your Instagram bio, AND your website's homepage.
2. Add a personal touch to your social media
Make your social media more personal! Your audience is dying to know the person behind the business. They don't want you to constantly pitch to them or else they'll run!
Instead, tell your customers your story of how/why you started your business, why you love animals, why you're an expert/knowledgeable about pets, or show them the behind-the-scenes of how your business operates.
Action Step: Write out four pieces of content that involve only YOU and/or your story. Post a picture alongside the content once a week for the next month and take notice of the responses. Don't be afraid to show your face! People buy from people, not just businesses.
3. Create a hashtag strategy on Instagram
Did you know that Instagram allows you to attach up to 30 hashtags under each post? You should take advantage of that!
There's a lot of debate in regards to the amount of hashtags to use without looking spammy, but there's no proof that using 30 hashtags will harm your business. In fact, the reality is it'll probably just bring you extra visitors! (If you don't want visitors to see hashtags in your post, hide them!)
Keep in mind there's no point in generic hashtags that doesn't apply to a potential customer. For example, don't use #dog or #dogsofinstagram. It's time to get more niche: #dogwalkingsandiego is one example. 
Action Step: Type out hashtags on the Notes app on your smartphone. Every time you post on Instagram, you can copy and paste them. But, be sure to change up a few of the hashtags for each post (add 3-5 hashtags specific to the content of that post). 
4. Add a blog to your website
Google will LOVE you if you update your website consistently. One way to do this is through blogging. Not only is a blog good for SEO, but the right content can establish you as the pet industry expert in your area. It's no longer good enough to just "love dogs" to have your own pet business. You need to know how to take care of the pets you're walking or providing care for. What does your business provide that others may not? Tell it to the world!
I know you're busy and this may seem impossible, but just start out small. Post one blog post a month for the next year and see what happens.
Action Step: Let's break it down even smaller. Start by writing 10 content ideas you think would benefit your customers. Then, jot down bullet points for each content idea until you have rough drafts. Spend 10 minutes every day elaborating more and more on each of those content ideas and BOOM: you've got 10 whole blog posts to schedule ahead of time. That's potentially 10 months worth of blog content right there.
5. Tell your customers thank you
On average, about 80% of your revenue will come from 20% of your clients. This means, it's typically more expensive to try and find new customers compared to focusing on current customers that are already brand loyal to your business.
What can you do to show your appreciation toward your loyal customers?
Give them a handwritten note, provide a gift on their pet's birthday, take a photo of their pet while at daycare, or create a stamp of their pet's feet and frame it. The pet industry is VERY brand loyal. Pet owners typically cling to one business they love and will likely stay, even if you raise prices, change business names, change policies, etc.
Action Step: Figure out one way you can show your loyal customers you appreciate them, and get to work! See what happens.
Social media and blogging are critical ways to expand your reach and increase your profits, but you can also increase your loyal customer base using personal touches. The number one thing to remember is to always think about who you're marketing to as you're writing your content, posting on social media, and as you're strategizing ways to thank your most valuable customers. You've got this, Petpreneur!