Virginia State Parks for Pooches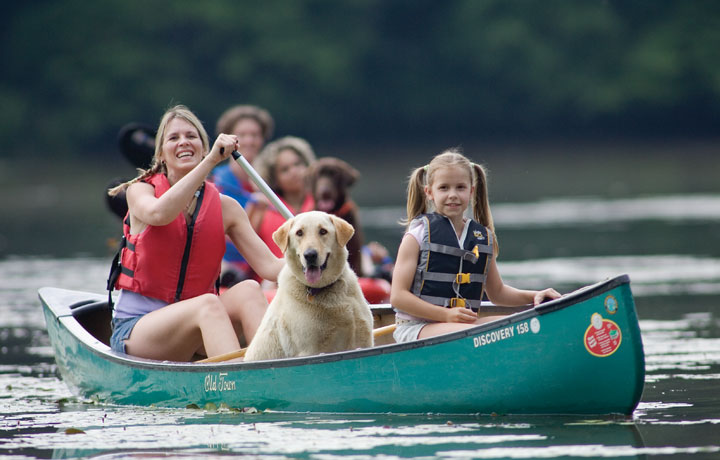 Enjoy a fall getaway at one of Virginia's great state parks.
If you didn't make reservations last year for Shenandoah National Park or the Peaks of Otter, don't despair. Virginia is blessed with an abundance of beautiful state parks and most are pet friendly.
Many of the Virginia state parks offer camping, RV sites and cabin rentals, as well as an array of recreational activities. You can explore forests, coastal marshes and meadows, hike, fish and kayak. Some parks also offer historical presentations and other cultural activities. In general, parks charge an additional nightly fee for pets, but these vary in each park.
Here are a few of our favorites for a last-minute fall getaway:
Final Beach Escape at First Landing
Located on Cape Henry in North Virginia Beach, First Landing State Park is the most visited park in the state. Virginia's first settlers originally landed here, but after a skirmish with the local Native Americans, re-boarded their ships and headed to Jamestown. Designated a National Historic Landmark, First Landing is home to the oldest lighthouse in America, built in 1791. The 2,888-acre park offers swimming, hiking, biking, boating and fishing,as well as a wet lab, aquarium and historical exhibits. With more than 200 campsites and 20 cabins, there is plenty of room for the whole family. Leashed pets are welcome on the 20 miles of hiking trails. The park also offers more than a mile of beachfront on the Chesapeake Bay.
Breaks Interstate Park: "The Grand Canyon of the South"
This 4,500-acre park in Dickenson County is known for its unique rock formations and caves. Follow in the footsteps of Daniel Boone who discovered the passage through Pine Mountain that led to Kentucky and the Ohio Valley River Valley and gave the area its name of The Breaks. The 81-room lodge, cottages and lakefront log cabins are open year-round, although the restaurant and camp store close in the winter months. More than 130 campsites—including some with RV hook-ups—are available and recreational activities include hiking, biking, horseback riding and rafting.
Hungry Mother State Park: A Native American Legend
According to local lore, Native Americans once raided several settlements along the New River and took captives, including Molly Marley and her young child. They escaped, but after days of wandering in the wilderness, Molly collapsed. Her child continued following the creek and finally found help, uttering the words "hungry mother". Today that mountain is called Molly's Knob in her honor, and the stream is known as Hungry Mother Creek.
Located in the heart of the Blue Ridge Mountains, Hungry Mother offers spectacular woodlands.  A sandy beach can be found on the 108-acre lake, as well as boat rentals, fishing and numerous hiking and biking trails. The log lodge, built by the Civilian Conservation Corps (CCC), more than 80 campsites and 20 cabins—including a six-bedroom home—provide accommodations for groups of all sizes and the park offers a visitor center and gift shop.
Douthat State Park: Bring Your Dog and Your Horse to the Allegheny Mountains
Located near Clifton Forge, Douthat not only features fishing, hiking, swimming and a wide variety of boat rentals, but also offers miles of bridle trails and an equestrian campground with 14 covered horse stalls. On the National Register of Historic Places, Douthat offers several cabins—all pet friendly— and large family lodges, as well as campsites with RV hook-ups. Boat rentals are available through the end of October and overnight guests receive free boat launching privileges. Experienced hikers will love the climb up to Blue Suck Falls.
Richmond R & R: The Princess-Inspired Pocahontas State Park
Located 20 miles from downtown Richmond, this park is named after the daughter of Chief Powhatan who, according to legend, saved the life of Capt. John Smith. A variety of boat rentals including rowboats, kayaks, paddleboats and canoes are available for rental on the weekends. The park offers more than 80 miles of hiking, biking and horse trails. Although the Aquatic Center is closed in the fall and winter, visitors can enjoy boating and fishing in the park's three lakes. Campsites offer electric and water hook-ups (no equestrian campsites) and restrooms with showers are centrally located throughout the campgrounds. The park is also home to the Civilian Conservation Corps Museum, featuring exhibits dedicated to the workers who helped build Virginia's parks.
If You Go:
www.nps.gov/findapark/feefreeparksbystate.htm
www.dcr.virginia.gov/state-parks/
www.dcr.virginia.gov/state-parks/pets
www.first-landing-state-park.org/
www.dcr.virginia.gov/state-parks/pocahontas#general_information
This article was originally published in our Fall 2016 print issue.