How to Keep Your Dog Safe While Driving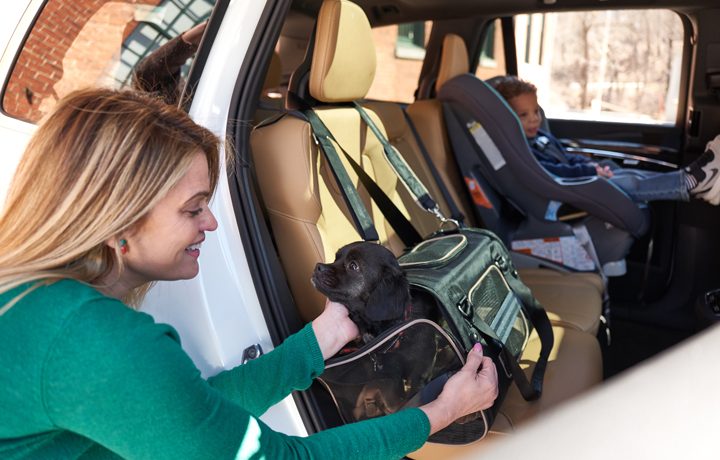 Whether driving to a nearby dog park, or embarking on a cross-country road trip, pet owners today are joyriding with their animal companions more than ever before. According to the AAA/Kurgo Pet Passenger Safety Study, nearly 56% of Americans transport their dog in their car at least once a month. Regardless if your excursion is near or far, preparation is essential to ensure a smooth and safe ride for both you and your pup. Here are a few ways to stay safe while on the road with your furry best friend!
Prepare Your Pooch
A dog that isn't safe or comfortable during a car ride can pose a danger to you and others on the road.  If your pet is new to riding in the car, take him on short test drives before venturing somewhere far. A few laps around the block will do and then increase the driving time gradually. Surround your dog with items that help make him or her feel comfortable. A blanket, favorite toy, bone or tennis ball are some great options.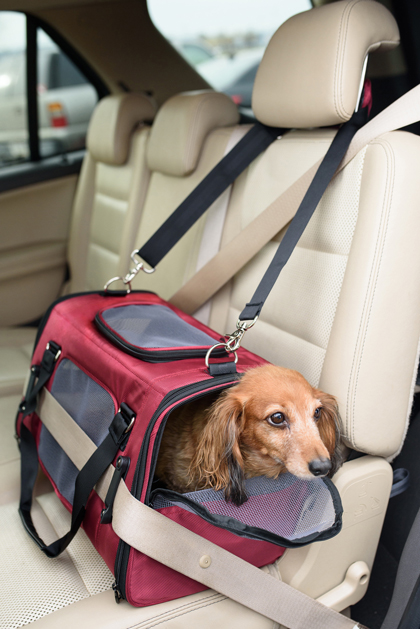 Keep Dogs Inside Moving Vehicles
While it's tempting to let your dog hang his head out the window to feel the breeze, this can be seriously dangerous. Flying debris, heavy wind and fast-moving cars can all cause injuries. Not to mention, an overly excited dog could attempt to jump out of the window. Cracked windows are a much safer option. Your pup's wonderful sense of smell will still be able to enjoy all of the scents whizzing by outside in a much safer way.
Proper Dog Safety Restraints
According to the Automobile Club of America, 84% of all dog owners travel with their pets unrestrained in the car. In addition to being a major distraction to the driver, not properly restraining a pet leaves them vulnerable in the case of an accident. For those who do use a restraint, it's important to note that there are currently no performance standards or test protocols to verify manufacturers' claims that their crates and carriers are safe. It's important to shop for a carrier that has been crash-tested. The Gen7 Commuter™ is an ideal option. Not only does this carrier provide optimal comfort for Fido, but it passed its crash test and received the highest safety rating available. The carrier received 5-Stars by the consumer advocacy non-profit Center for Pet Safety®.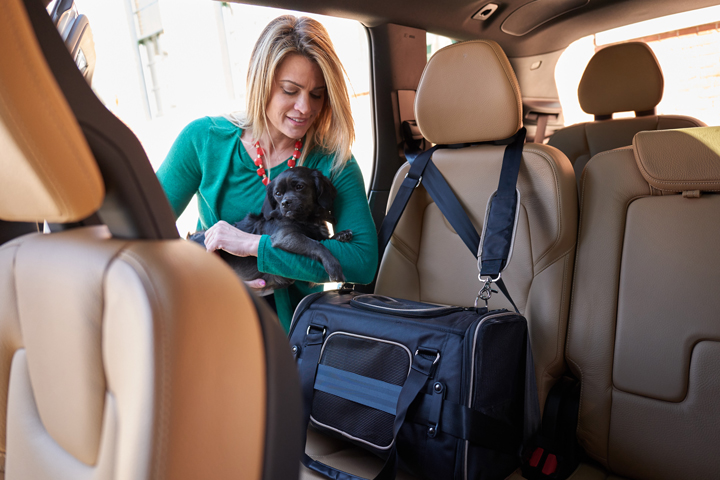 Pack the Necessities
If you're always on the go with your pup, then you should have a few essentials stored in your car. Packing necessities include favorite toys (Frisbee, chew toy, ball, etc), food bowl, water bowl, treats, a jug of fresh drinking water, towels, poop bags, collar, ID tags, leash, pet medications and a pet first aid kit. Please note, a pet first aid kit for both you and your dog is especially important. Emergencies can occur at any time, so it's smart to be prepared!  
Calming Anxiety
Regardless of how many practice rides you attempt, some dogs may still experience nerves, anxiety or motion sickness in the car. Conditions within the car can help set a more calming tone. Soothing music like the classical station, or leaving the windows slightly cracked could help. Providing your pup with a natural, pet-safe, anxiety reducing remedy is another option. Phytocannabinoids can be a very beneficial way to ease travel nerves and anxiety.
In addition to the calming effects, phytocannabinoids products from Treatibles can help thwart car/travel sickness. Treatibles is recognized as a leader in the phytocannabinoid nutraceutical products for pets sector. Among their product offerings are PCR Grain-Free Dog Chews, PCR Oil Dropper Bottles with MCT Coconut Oil and PCR oil Gel Caps. All Treatibles products are easy to pack for any trip. They are also an effective and safe way to help your pet cope with travel anxiety and/or sickness.
Buddy System
If you're not in the car, your dog shouldn't be either. In the summer months, vehicles heat up extremely fast at dangerously high temperatures. Leaving your pet, even if it's just for a few minutes, can pose serious danger to their health. Remember, just like your car can act as an oven in the summer, it can act as a fridge in the winter locking in the cold temperatures. In addition to extreme weather conditions, leaving your pet unattended in a car leaves them vulnerable to other dangers such as pet theft; a very scary and rising epidemic happening across the country. Keep your buddy with you or another passenger at all times!
Stay Mindful Once Parked
Pet car safety doesn't end when you get to your destination. Each year, hundreds of pets are lost or injured when they dart out of cars uncontrolled. This is especially true when they feel stressed in a new or strange environment. To avoid a heartbreaking situation from occurring, your pet should always be restrained in the backseat with an up-to-date ID tag on.  A microchip is a great safety tool too. Once you are parked, be sure to have a firm grip on your dog's leash before opening the door.
By staying mindful of these helpful safety tips, both you and your dog will feel confident, comfortable, safe and stress-free while on the road. Cheers to happy and safe driving!