Including Your Dog In Your Wedding: Important Things to Consider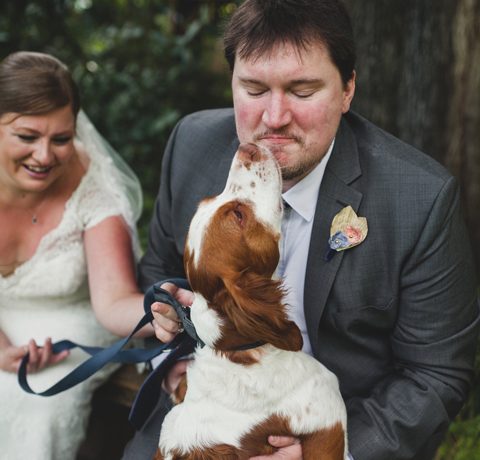 From setting a date to booking a venue, there's a lot to do before you say "I do," not the least of which includes choosing a close family member or best friend to act as your Maid of Honor and Best Man. Most of us wouldn't consider foregoing the bestowal of this honor on a human we love. But what about the dogs we love? We always include a Maid of Honor and Best Man, but what about man's best friend?
Deciding Whether or Not to Include Your Dog
Though you love your dog and would take him anywhere with you, deciding whether or not to take him to your wedding can be challenging. Lauren Mosher, dog mom to two rescues, Gus, a 65-pound lab/pit mix, and Georgie, a 25-pound beagle, faced this decision when planning her October 2018 wedding. "The most important question I asked myself," she says, "was, 'Do I want my dogs as a part of the memory I hold of my wedding day?'" Once you have answered this question, there are a few more to consider before making a final decision.

Does my Dog have the Personality?
Even if you really want to include your dog in your wedding, it's important to consider what would be best for him. As yourself the following questions:
Is my dog timid or anxious?
Will being around the number of guests I plan to invite terrify or delight him? Will he have fun, or feel frightened and anxious?
Is my dog friendly?
Does my dog do well with large groups of people? Is there any risk he will bite or jump on guests? Lauren Reynolds's two dogs, Radio and Rocky, participated in her July 2016 wedding. At the time, Radio, a 50-55 pound Australian cattle dog was 10, while Rocky, a 40-45 pound Brittany Spaniel, was about 2. "Radio is a people dog," Reynolds says, "so I knew she would be okay. Rocky knew all the guests, so I knew both dogs would be fine. They go to family holidays and are good with all the people there." It worked out well: Radio "walked down the aisle like it was the party she'd been planning her whole life," Reynolds says.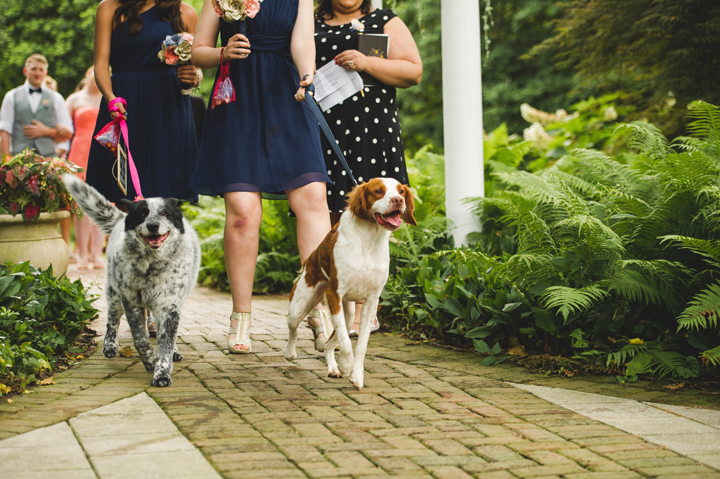 Is my Wedding Conducive to Including my Dog?
Who will handle your dog before, during, and after the ceremony
Because Mosher did not put her dogs through any training or preparation before her big day, she designated her stepmom, a certified dog trainer, as their handler. Reynolds took a similar approach. She and her fiancé hired a professional dog walker from their dogs' daycare, which offered a wedding package, to handle the dogs before and after the ceremony.
Your guest list
Do any of your guests suffer from dog-related allergies? Are you inviting anyone who fears dogs? Mosher says she was careful to consider "whether Gus and Georgie would be disruptive to the guests during the wedding, and where they would be placed during and after the ceremony."
The size of your wedding 
Mosher's intimate wedding included only 19 guests, who gathered in the fenced backyard of her home for both ceremony and reception. Reynolds's wedding, on the other hand, included 100 guests at a popular wedding venue in Baltimore.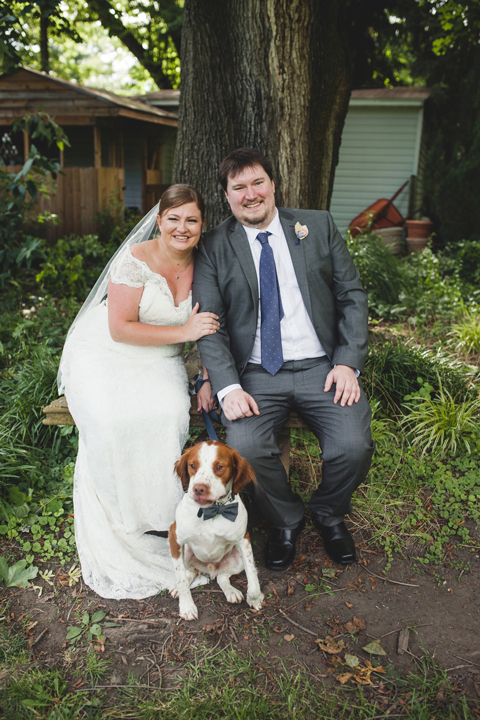 The venue 
While Mosher's venue was both familiar to and safe for her dogs, Reynolds had some concerns. "One of our dogs is a bit of a runner, so I was always worried he was gonna run. He was in a totally new place with totally new smells. There was a river behind us. It seemed like a recipe for disaster–so we hired someone to worry about that for us." Their professional dog walker made sure to keep the dogs safe and under control.
Deciding What Role Best Fits Your Dog
If you decide Bingo will be in your wedding, it's time to decide what role he will play. In Mosher's wedding, "Gus wore a tuxedo collar that matched the mens' suits, and Georgie wore a pink flower collar. Both my dogs are too ill-behaved to have played a formal role in the ceremony, so my designated handler just held them on leashes during the ceremony. She sat front-row, center, and fed them treats to keep them occupied. The dogs posed with my husband and me for photos, then they were put inside for the reception."
Reynolds's dogs also played a role in the ceremony. They walked down the aisle on leashes with the wedding party and were put on what Reynolds and her fiance called "the ring protection detail," along with the couple's nieces and nephews. The couple's cake topper was even modeled after their dogs. "There was a lot of silliness at our wedding," Reynolds says, "and the dogs got to be part of that."
Preparing Your Dog (and your Humans!) for the Big Day
Once you've decided to include your dog in your wedding, be sure to prepare him. Make sure he knows any basic commands that might prove helpful during your ceremony. He may need to know and obey commands such as "sit," "down," and "stay" if you plan for him to remain at your side throughout the vows. You might also want to consider if he will need any specific training for the role he will play. For example, will he need to know how to loose-leash walk to walk down the aisle?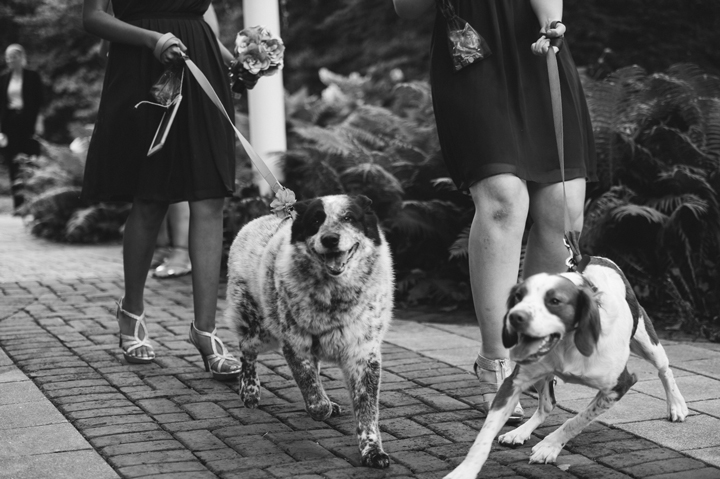 Prepare the professionals you've hired
"I would have communicated more clearly to my photographer and emphasized the importance of candid photos of our dogs with us," Mosher says. Be sure you communicate to your photographer, DJ, officiant, etc. any specific wishes you have regarding your dog's participation in the wedding.
The day of your wedding, make sure to give your dog opportunities to exercise. Also plan for his nutrition, hydration, and potty needs. "I was like a crazy mom preparing her kid for preschool," Reynolds says. "I prepared a bag of treats and made sure the walker had a portable water bottle with her."
The Best Part of Including Man's Best Friend in Your Wedding
Neither Reynolds nor Mosher regrets the decision to include their dogs in their weddings. "I wanted to make a memory, and the most important part of all the special memories I have include my dogs," Mosher says. "Our dogs are our family."
Reynolds echoes Mosher's sentiments: "The dogs are our family. No party celebrating our family would have been complete without them."
Mosher finds that including her dogs in her wedding has also strengthened her bond with her husband. "My husband and I still laugh when we pull out the photo album and look at the pictures of the dogs in the wedding. Sharing a chuckle brings us joy and is a heartfelt reminder of the true meaning behind our day: Love." Reynolds agrees. "The photos we have with the dogs at the wedding are my favorite." Both women agree that their weddings were more joyful because they included their dogs. According to Reynolds, "Dogs bring joy — and ours definitely did that."
Congratulations to the happy couple, Lauren and Joel Reynolds and their two dogs, Radio and Rocky!
Photography by Carly Romeo of Carly Romeo & Co.
___
by Amanda Sue Creasey
Amanda S. Creasey is a high school English teacher, freelance writer, and doting dog mom of two. She's a member of the James River Writers, the Poetry Society of Virginia, and the Virginia Outdoor Writers Association, and spent five years volunteering on the dog crew at Richmond Animal League. When she's not teaching or writing, you can find her walking her dogs, hiking, running, or traveling the country–or online at Mind the Dog Writing Blog.