Essential Purchases for New Dog Owners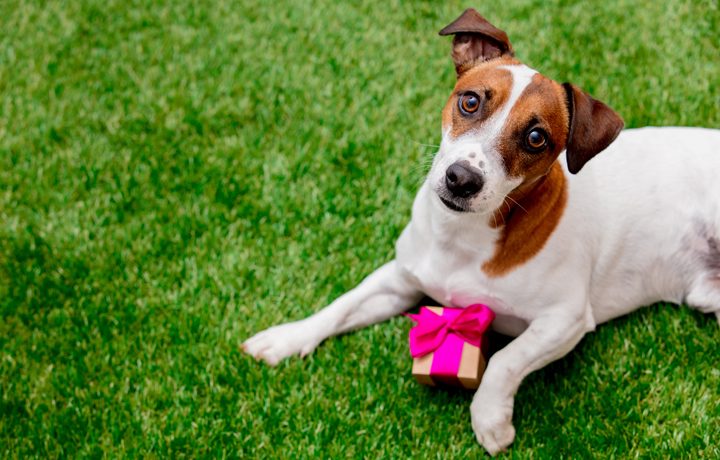 While bringing a new puppy or dog home is exciting, preparing for their arrival can feel quite overwhelming. With an abundance of pet products and services available, it can be difficult to determine what are the "must-haves" for both you and your pup.
Most pet parents would agree that the overall goal during this transition is to keep their canine as happy, calm and safe as possible. Whether you're a first-time dog parent or a seasoned veteran in pet ownership, this list of essentials tackles three key purchases every owner will want to make when welcoming their new dog home!
Comfort
Creating a relaxing and peaceful space within your home for your new pet is a great first step. It's important to remember that dogs like to sleep near their fellow pack members. Both dogs in the wild and those within the home will typically choose to lay in close proximity of their humans. This helps them to gain companionship, protection, comfort and warmth.
Not everyone is willing to share their bed with their dog; but thanks to a brilliant innovation there's a new way to sleep with your pooch right by your side without sacrificing your bed space. The Bedside Lounge Dog Bed from Petique is the perfect all-in-one pet bed, suitable for dogs up to 100 lbs. Featuring mattresses that provide extra comfort and a raised platform, the Bedside Lounge can be placed right next to your bed, which will give your new pup the peace of mind of knowing that he's fully welcomed with his new pack.  
Retailing for $269.99, a few key features include: an upper and lower level natural lounging environment for pets, two mattresses included, removable fleece top covering, easy to set up and fold down, four wheels and brakes, two side pockets for smaller items and it's travel friendly thanks to its complimentary tote.  With three zippered doors and large mesh windows, you'll have the option of watching your dog play or relax as they adjust to their new life with you!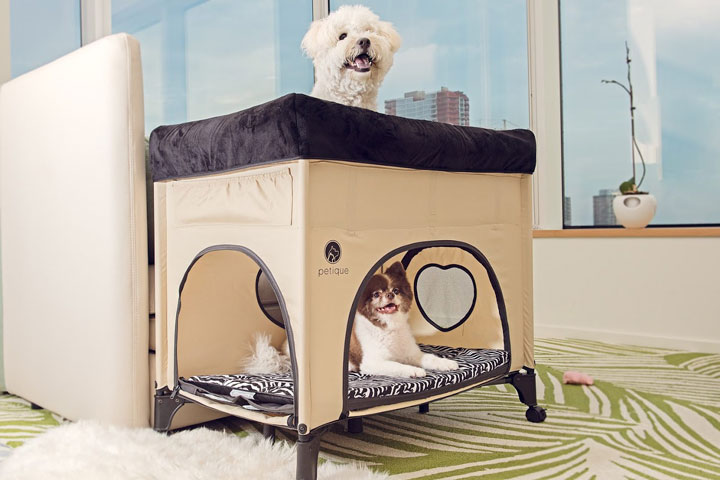 Find out more at: https://www.petique.com/dogs/sleep/bedside-lounge/bedside-lounges.html/
Calm
Puppies, rescue animals or any dog in a new living environment can be uneasy for a while. It's normal for a dog to feel nervous entering their new life with you, so you'll want to be sure to remain cool and calm since dogs have a miraculous way of feeling and reacting to our energy.
For the dogs who seem extra stressed, providing them with a cannabidiol (CBD Oil) can be a natural, safe and effective way to ease their nerves. Prana Pets offers a 100% Colorado grown, full spectrum CBD Oil that can bring much relief and comfort to your new canine. This company is a leading brand of natural pet remedies and offers an array of high-quality products. In addition to helping minimize stress, Prana Pets CBD oil can promote healthy digestion, appetite and healthy skin and fur growth. It's a win-win! 
Learn more at: https://www.pranapets.com/pages/cbd-oil-for-pets/.
Dental Health
Periodontal disease (teeth/gums) is the most common disease seen in adult dogs. Providing your pup with good dental hygiene can add 2-4 years to its life. It's important to get into the habit of brushing their teeth early on. This helps make it part of your daily routine.
In addition to brushing and regular dental cleanings at your vet, a bully stick can help prevent periodontal disease too! It requires some tough chewing which massages the gums and cleans the teeth. Prana Pets Bully Sticks are an ideal option! Natural Bully Sticks for Dogs are regulated by the USDA to ensure they're made from all-natural ingredients and free of pesticides, dyes and chemicals. Prana Pets Bully sticks meet these requirements and are made from 100% meat.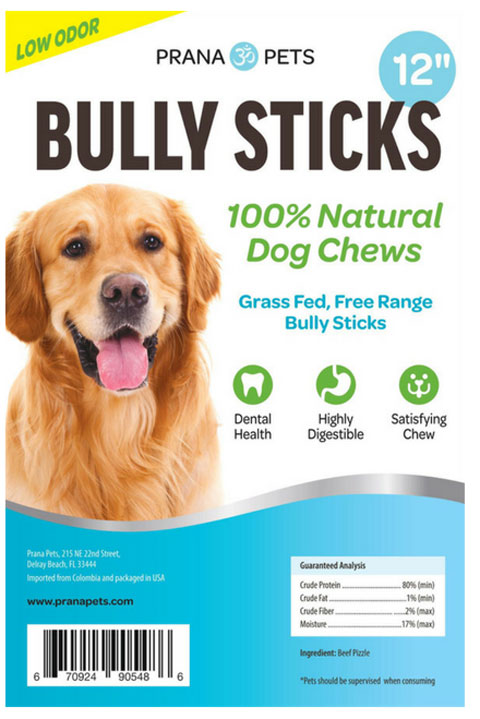 Purchase here:  https://www.pranapets.com/pages/all-natural-low-odor-bully-sticks 
Exercise
 A tired dog is a happy and well-behaved dog! This couldn't speak more truth. Exercise is key in helping your dog burn off mental and physical energy. Walking not only benefits Fido, but you as well! With busy schedules, sometimes the only opportunity to walk is before sunrise or after sunset. There are many potential dangers when walking in the dark. So, a headlight harness from headlightharness.com is a must for all new pet owners!
This patent-pending dog harness provides superior lighting both for the user and those in their immediate surroundings. It's an ideal every day, water-resistant harness that's easy to fit and put on. Another cool feature is that it keeps pets secure in any vehicle. Simply sit them on the seat and run the seatbelt through the sturdy handle on the back before buckling them in for a safe, secure, and calm ride!
Get yours at: https://www.headlightharness.com/shop/headlight-harness/.
Grooming
Whether your pup has a long flowing coat or is a short-haired breed; the bottom line is a groomed dog is a happy and healthy dog! The earlier you get them use to a grooming routine, the better. There are many benefits to regular grooming. One is bathing, which will help to remove dirt and excess skin oils that can sometimes cause skin conditions and unpleasant odors. Having them groomed is a great way to lookout for potential health problems.
Unfortunately, going to the groomers isn't always a fun or desirable experience for pets. Traveling to and from the groomers can cause them stress. Thanks to the new mobile app called Groomit, finding a reputable and trustworthy groomer to come directly to your home is now made possible! At-home grooming will give your new dog a much more comfortable and calm grooming experience.
Features of the Groomit app include: convenient appointment booking and payment within app, extensive network of experienced groomers, top safety (extensive background checks on groomers), insurance covers all pets and property, groomers and customers rate each other resulting in higher community standards, appointments are in the comfort of the pet owners home, and Groomit meets each groomer in person, verifies skills and provides training sessions.
Groomit is a great option for all dogs and is currently available for pet owners in New York, Westchester, New Jersey, Connecticut and San Diego. Download the Groomit app today and begin reaping all of the benefits of regular dog grooming!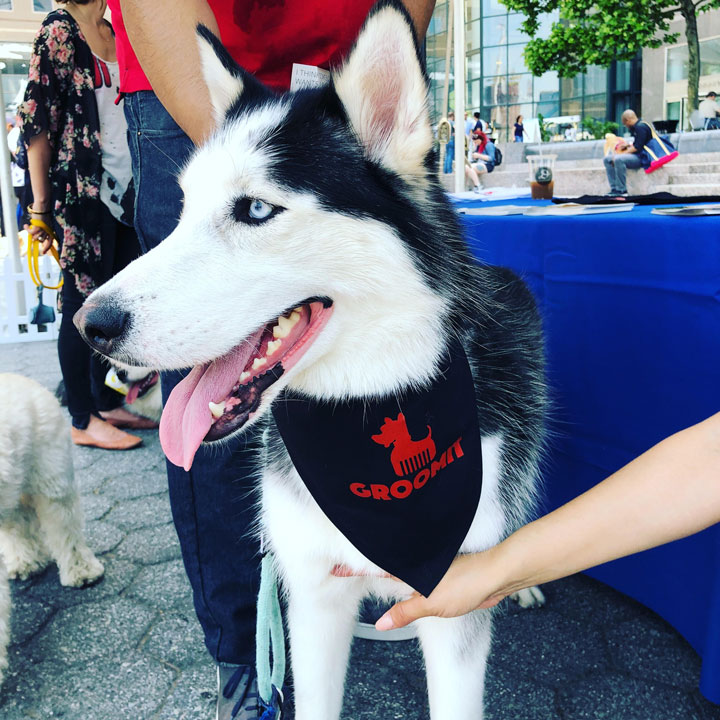 Learn more at: https://www.groomit.me.
Adding a pet to the family can be expensive. But these are a few products and services that are worth purchasing. Focusing on their comfort, health and keeping them as stress-free as possible is essential for their overall happiness and wellbeing. Cheers to happy adventures with your new canine companion!