Sailing Into Summer in Annapolis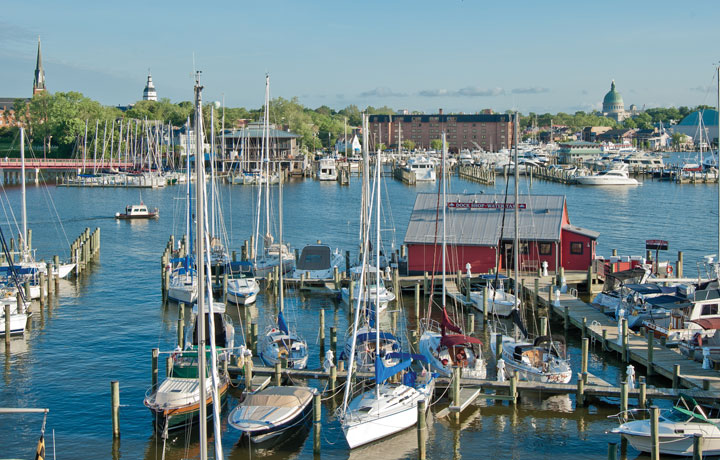 Kick off the summer season with some R&R on the Chesapeake Bay.
I grew up on the Potomac River, so the beginning of summer always meant it was time to put the boat in the water. We had rowboats, canoes and motorboats of all size. The lucky few who lived on the waterfront had sleek sailboats for sunset sails and long weekends on the water.
Try Out Your Sea Legs
For avid sailors and seafaring Fidos, the charming colonial town of Annapolis is a perfect destination. Surrounded by water on three sides, Annapolis has a long history as a sailing town and the home of the U.S. Naval Academy since 1845.
Visitors can rent canoes, kayaks, paddleboards and boats. Or, take sailing classes at the Annapolis Sailing School, the Annapolis School of Seamanship or the World Performance Sailing School.
Waterfront Lodging
The only hotel in downtown Annapolis that sits directly on the waterfront—and offers docking for "sail-in" guests—is the Annapolis Waterfront Hotel, part of Marriott's Autograph Collection. The hotel sits on the small, narrow waterway nicknamed "Ego Alley" from the parade of luxury yachts cruising up and down the canal. Watch the show at pet friendly Pusser's Caribbean Grille where the patio tables are literally just inches from the water.
The hotel is also within easy walking distance of the boutiques and restaurants that line the cobblestone streets. It's also a short stroll to historic attractions like the Maryland State House, the Naval Academy and St. John's College, the third oldest university in America. Most of the restaurants in the downtown district offer pet friendly outdoor seating and many merchants put out water bowls for canine visitors.
Enjoy a pet friendly Watermark cruise…dogs ride free on the scenic sightseeing adventures and also on the local water taxis. Find a designated dog-friendly beaches if you and your pooch want to take a dip.
Guest rooms at the hotel are decorated with contemporary furnishings in a palette of blues and whites inspired by the sea. Many rooms feature private balconies overlooking the waterfront. Amenities include complimentary Wi-Fi, flat-screen televisions, small refrigerators and coffee makers.
Dogs of up to 100 pounds are welcome with an additional fee of $30 per day. The hotel provides plush dog beds and a welcome "doggy bag" for their four-legged guests with treats, toys and waste bags. Leashed pets are allowed in public areas and in Pusser's dock bar. The staff can arrange for pet sitters if needed. But, Annapolis is incredibly pet friendly so there's no need to leave your buddy behind.
This article originally appeared in our Summer 2016 print issue.
by Ginger Warder, Photo from the Annapolis Waterfront Hotel