Frederick: A Dog-Friendly City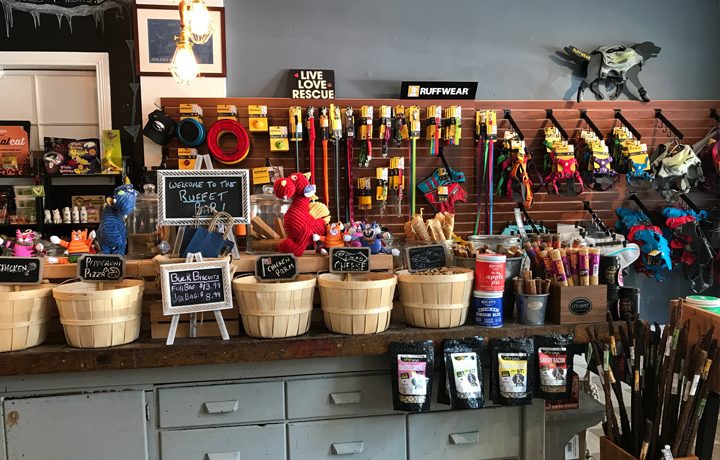 When making the decision to explore a downtown on a nice weekend adventure, many dog owners want to be able to take their four-legged family member. I have lived in California, Colorado, and Arizona, but I've never seen a downtown, or a city, so dog-friendly as Frederick, Maryland. As a "dog mom," I hate leaving my dog at home while I seek to enjoy what the city has to offer, so I love when Belle can enjoy those things with me. Since it seems dogs go everywhere, I decided to take a look at just how dog-friendly Frederick is.
Dog Walks and Parks
Is chase your dog's favorite game? Or do they love running after a thrown tennis ball and returning it to you, awaiting praise? Then the Downtown Frederick Dog Park is the place for them!
Fenced in and with plenty of grass and mulch, it's the perfect place to let your pup run off some energy, and maybe even meet some friends, before taking them on an excursion to explore downtown. Why not take a scenic route to get there?
The easiest walkable route from the Downtown Dog Park to Downtown Frederick is the Riverwalk. It's the perfect scenic walk to take with your canine companion.
Your dog will encounter new smells and possibly some ducks! You will get a relaxing walk in the fresh air along a tree-lined urban trail. You're likely to run into other dog owners walking their dogs. So, take your time and allow your dogs to stop to say hello and make new friends.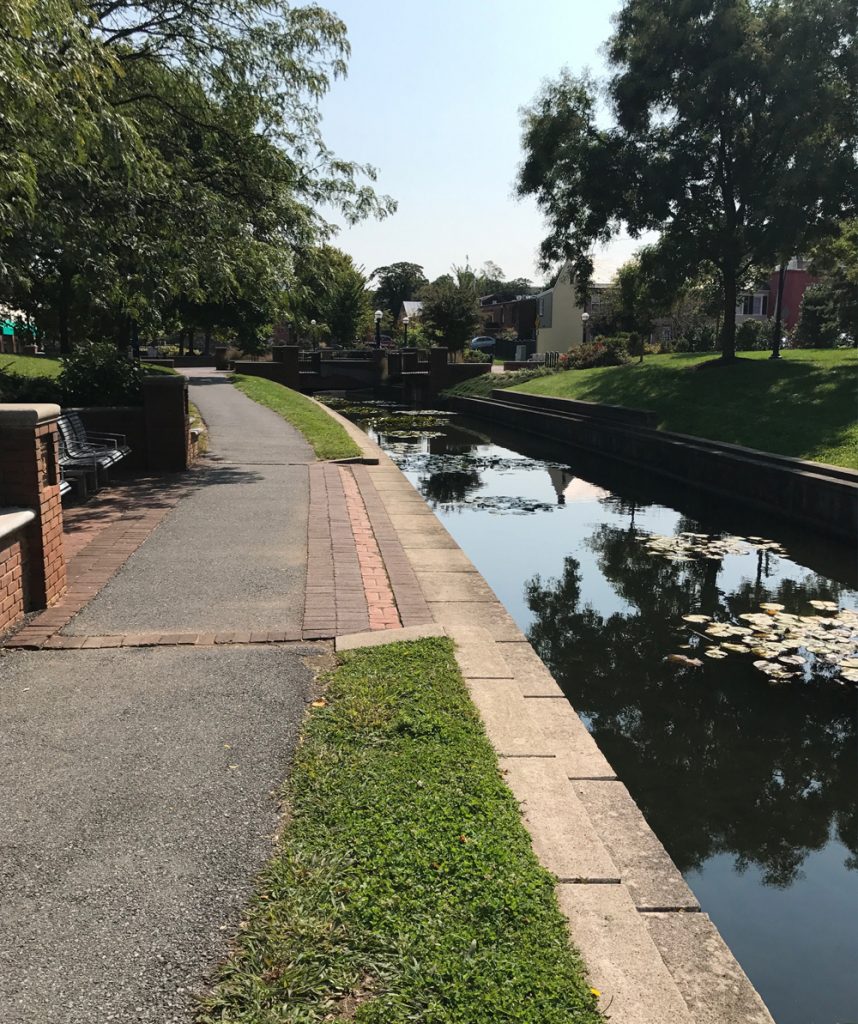 Dog-Friendly Downtown
Once you reach Downtown Frederick, there are plenty of places and things to experience with your dog. Most restaurants will allow you to enjoy their outdoor patio with your four-legged family member. And, most of these outdoor patios have dog bowls available for water. If you're looking to bring your dog on a shopping excursion, you'll want to look for a dog bone shaped sticker on the shop window.
This sticker indicates the store permits your well-behaved dog inside. Some stores have other stickers that may say "well-behaved dogs are permitted." Either way, you will want to be sure your companion knows his or her manners before taking them to downtown shops.
Just as with kids, though, it's always nice to reward good behavior, and there's no better reward than taking your dog to the only pet shop in Downtown Frederick: Paws in the City.
They have a huge variety of treats and toys—from bully sticks, to balls and squeaky toys, to a "Ruffet Bar"—as well as a variety of dog-related accessories and attire, such as outdoor mats and leashes and harnesses. My dog loves going to Paws—the owners and employees always spoil her with a treat or two and affection, and she always gets to pick out a treat of her own.
Downtown isn't the only place to spend time with your dog, though.
Non-Downtown Dogs
If you work and don't like leaving your dog at home by themselves all day, you need another option. Greebriar Veterinary Hospital & Luxury Pet Resort may be an answer. Greenbriar has a Doggie Day Camp program, where your dog can enjoy running around outside all day with other dogs, supervised by staff. Every time we make the turn to go to camp, my dog is instantly astute. I can barely contain her excitement as she makes her way to the door that leads to day camp with a look that clearly says, "bye mom!"
The great thing about Greenbriar, though, is they also have a dog park available directly across from the facility. This park is open for use every day and is located away from the hubbub of the main city. It's a great place to take your dog for some quieter playing and bonding with other dogs and dog parents.
There are also numerous trails in the Frederick area for walking and hiking. Having come from northern Arizona, my dog and I love hiking, and hiking these trails have given us a small sense of home. These trails provide a quiet retreat (and great Instagram photo opportunities).
Perhaps the best first step, though, is to see if your neighborhood has any dog-friendly events. When the pool closes in September, my mother's neighborhood, Worman Mills, puts on a "Dog Swim Hour". At this event, the family pool is open to dogs. They're permitted to jump in and swim as much as their little hearts desire.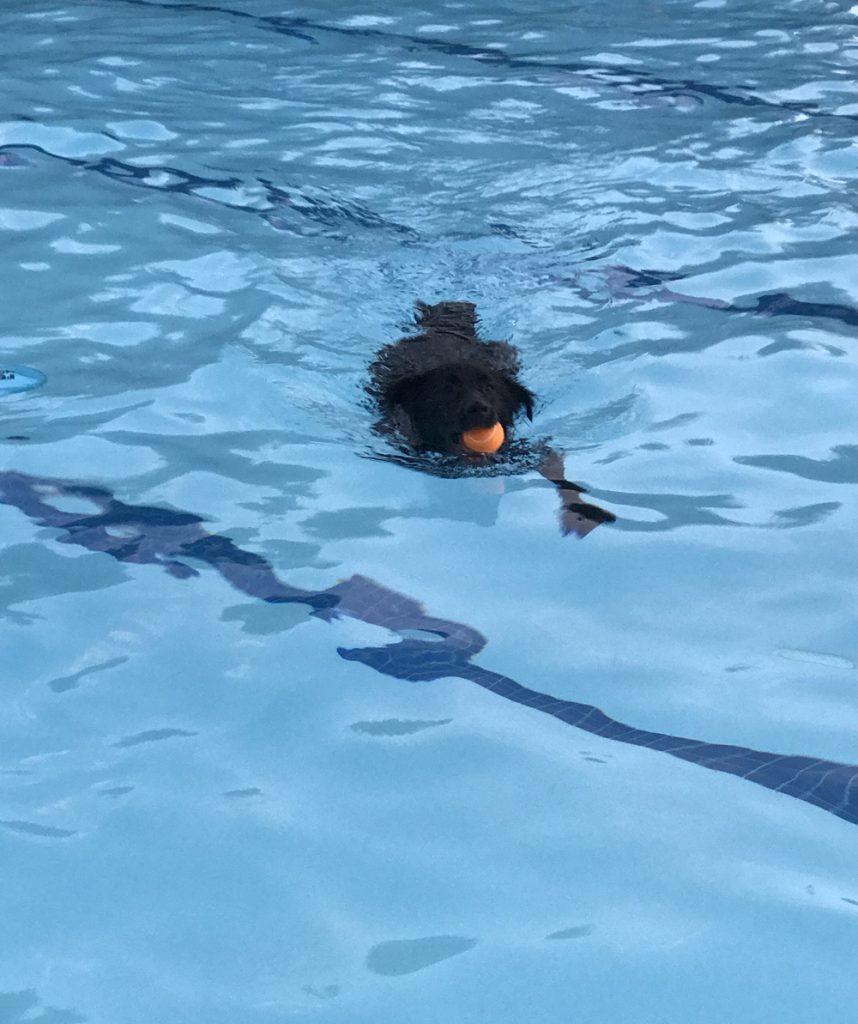 Keep an eye out on your neighborhood newsletters and announcements for events that may be dog-friendly.
Overall, Frederick is a city that really does its best to incorporate our canine companions, making it easier for us to involve them in our everyday lives and the community.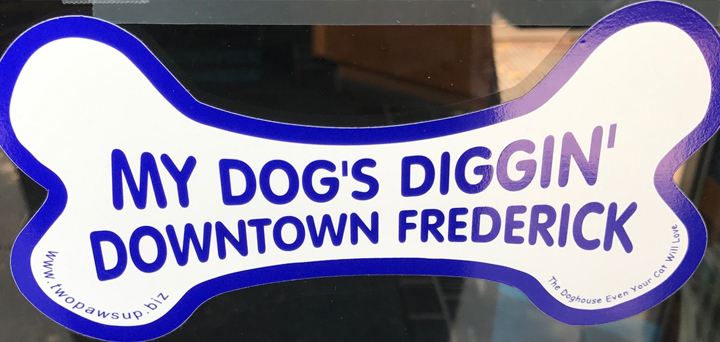 Photos courtesy of Alexandra Pallat