10 People Foods That Are Good For Dogs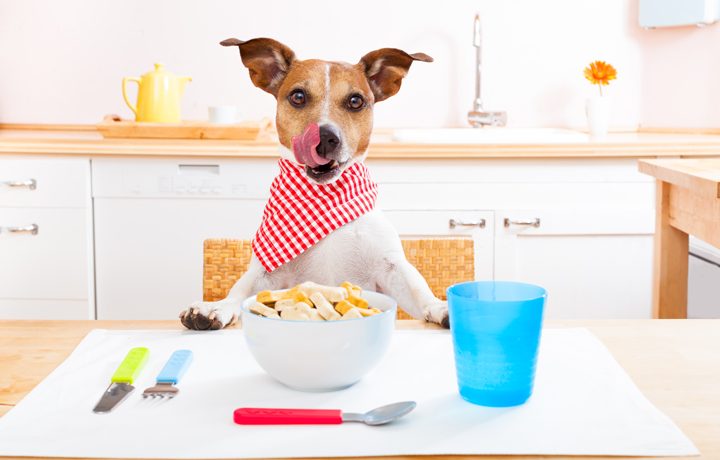 Our pooches are precious to us, which is why we treat them like the princes and princesses that they are. We buy them the best bones. We put silly sweaters on them in the winter to keep them warm. And, we feed them hearty human food—only the best for our babies. While chocolate and grapes are widely recognized as harmful feeds for our pups, it makes us wonder: What people foods are good for our dogs? We've rounded up our top 10 favorite human foods that are actually healthy for them.
Coconut
This tropical fruit contains lauric acid, which boosts the immune system. It'll also work wonders on bad breath and clear up itchy skin. Just remember, the outside shell of the coconut is unsafe for dogs—it's a potential choking hazard.
Honey
Exposing your pup to small amounts of honey—which contains pollen—builds immunity to allergens in your area. Honey is also packed with a ton of antioxidants like Vitamins B, C and D.
Peanut Butter
If you've ever had a reluctant dog, you've probably done the trick where you wrap a pill in peanut butter. But did you know that it contains healthy-heart fats and is rich in protein? Beware of additives like sugar-substitute xylitol, which can be toxic for dogs. Raw peanut butter is safest.
Popcorn
Your favorite movie snack can be your dog's, too. Popcorn contains riboflavin and thiamine, which promote eye health and digestion in dogs. If you drop a piece or two while munching, don't worry. But if you plan on giving your dog more than a bite or two, make sure the popcorn is air-popped and plain — no salt or butter, which can cause intestinal problems — and remove any unpopped kernels.
Yogurt
Finished with your yogurt? If it's free of added sugars (natural or artificial), then it's totally okay to let your pup lick the container. Yogurt contains probiotics, which are good for your dog's immune system. Some dogs are lactose intolerant, so be mindful if your dog has trouble digesting it.
Carrots
Crunching on carrots are good for your dog's teeth. Plus, they're high in fiber and low calorie—a suitable snack for dogs on a diet!
Pumpkin
If your dog is having digestive issues, try pumpkin. It's an excellent source of fiber and helps keep the GI tract moving. Bonus: pumpkin also contains beta-carotene/Vitamin A, which promotes healthy skin and strong eyes.
Apple Slices
A healthy snack that also freshens your dog's breath? Yes, please! Apple slices help clean residue off of a dog's teeth. They're also a great source of fiber. Make sure you don't feed your pup the seeds or core, because those are a choking hazard.
Oatmeal
Does your dog have a wheat allergy? Oatmeal is a great alternative grain. It's an excellent source of soluble fiber, which helps with bowel irregularity. Just remember, the oatmeal should be cooked before feeding it to your dog.
Green Beans
These green veggies are perfect for dogs on a diet. Green beans are low in calories and super filling. Stave off the sodium with no salt green beans.
While these foods are healthy options, it's important to monitor your dog's reactions. Contact a veterinarian if you dog is experiencing an allergic reaction.