Vets Foster Pets – Veterans Offer Shelter Dogs A Helping Paw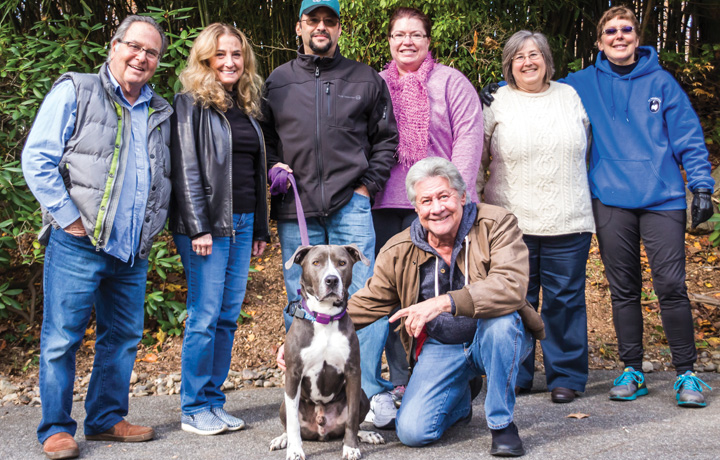 The latest statistics estimate 3.5 million dogs enter shelters in the US each year. More than half will not be adopted (The Humane Society of the United States).  Compelling evidence suggests that companion dogs provide veterans with stability and strength, unconditional love, loyalty, and emotional support. Companion dogs help veterans guard against depression and improve physical activity.   Dr. Heidi Ortmeyer and her team hypothesize that training veterans to be companion dog foster caretakers will improve health, quality of life, and increase leisure-time activity for veterans. And, of course, save lives of dogs in need of a temporary home. 
Reaching out to Veterans Through Adoption
Heidi's research project began in May of 2017 when she worked with Eskie Rescuers United to write a proposal for an Innovate Grant from Maddie's Fund (#ThankstoMaddie). Eskie Rescuers United received a grant for a program to provide adoption fees, preventative care, and high-quality dog food for veterans who were adopting dogs from the nonprofit's rescue group or affiliated partners.
The project helps unite veterans with rescued dogs. Veterans who have left the military are often on a fixed income. By reducing costs and assisting with care, and food, the grant allows Eskie Rescuers United to connect veterans with dogs in need of a permanent home. So far, the program has paired up several rescue dogs with veterans in MD, OH, PA, and FL. These adopters fell in love with their dogs and they now enjoy the love and companionship a dog can bring. They're also more active than they were before and enjoy walking their dogs and playing with them.
This program has been well received.  "Getting to know the veterans and hear their stories was inspiring," Heidi said. In fact, after meeting many veterans, she was encouraged to apply for a Research Grant from Maddie's Fund. This grant, Veterans as Foster Ambassadors, provides Heidi with funds to conduct a clinical research study of determine whether having a shelter dog in one's home can have a positive impact on older veteran's health, physical activity, and overall quality of life.
The Research Project
Heidi's project will make use of her experience as a Research Physiologist at the Geriatric Research Education Clinical Center (GRECC) at the VA Maryland Health Care System in Baltimore. Her study will look at how rescue dogs can help veterans with issues such as stability, emotional support, and physical health. "Dogs can provide unconditional love, strength, and help battle depression".  Dog owners are also often more physically active than those who don't have dogs.
The project has been approved by the IRB, IACUC, and VA Research & Development, and Heidi has received final approval to begin her research.

Heidi doesn't just believe that dogs can help veterans—she's seen it with her own eyes. "My father served in World War II and in the Korean War. After he retired from the military, he was diagnosed with Parkinson's disease and dementia. I've always remembered how, even on bad days, he would light up when Domino, our family dog, came to him. Domino brought him so much joy and companionship, plus he kept my father active. His life was much better thanks to Domino."
In the short term, Heidi will collect information from veterans who work with dogs for a two-month period. This information determines exactly what kind of impact fostering a dog has on the veteran's health and quality of life. She hopes to see that older veterans who aren't as active begin to get up and do more.
The Project Goals
Heidi hopes to provide data that shows dogs have tangible benefits for veterans. Additionally, she hopes to expand the companion dog foster caretaker program, "Vets Foster Pets,". She plans to bring it to the VA's Whole Health Initiative and expand the program beyond Baltimore. "My goal is to have this program spread across the entire United States. It would bring veterans together with experienced foster caretakers to mentor them". This would provide veterans with the skills necessary to care for their dogs while still providing homes for countless dogs and other animals.
This will involve forging partnerships, of course. Currently, the Vets Foster Pets program that Eskie Rescues United established through Maddie's Fund works with rescue groups such as Adopt a Homeless Animal Rescue, the Canine Humane Network, and Maryland Animal Sanctuary and Rescue. To provide dog food to vets, Vets Foster Pets has also formed a partnership with VeRUS Pet Foods.  VeRUS Pet Foods is a local business established by a veteran who understands the unique needs of those who have been in combat. As the Pets Foster Vets program continues to expand, Heidi plans on developing relationships with more shelters, rescue groups, and businesses.
"I hope to see Vets Foster Pets expand nationwide," she said. "The idea that rescued dogs could bring hope and joy and a reason to stay active in the same way Domino did for my father is really what this program is all about."
This article was originally published in our Winter 2017 print issue.