10 Tips for Staying Active and Keeping Cool in the Summer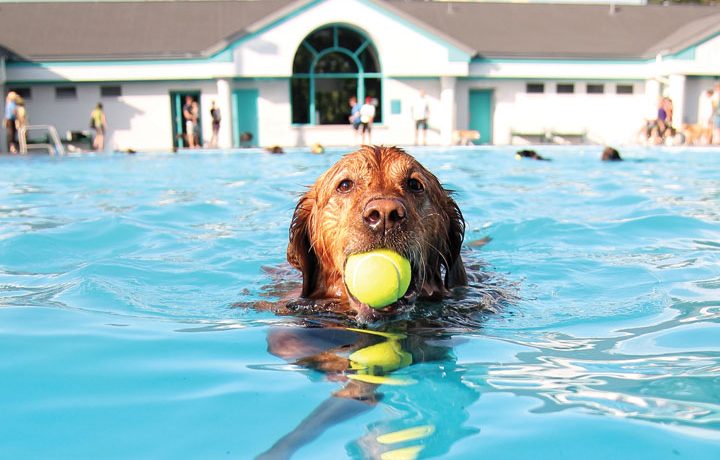 Exercise should be a non-negotiable, top issue on peoples' priority lists, but sometimes during the summer and winter months, with extreme hot and cold weather, exercise can end up last on to-do lists. "It's too hot" is often heard as an excuse not to exercise during the summer months. However, no matter the excuse—or the temperature—dogs rely on, and depend on, people to make the choices that will protect and improve their quality of life, their health, and their well-being. One of those choices that have to be made is getting dogs to exercise—even during the summer and winter months.
Daily exercise is crucial for people and dogs, as humans and canines are built to be in motion—not to sit on the couch. When a dog owner suffers from laziness and does not exercise, there could be a chance that his or her dog is suffering from laziness too. People and dogs have physiological needs to stay active and burn excess energy. If this energy does not get released in a structured and safe manner, such as walking, jogging, hiking or playing sports, this can lead to physical, psychological and behavioral problems.
Thus, as summer appears, here are some tips to keep dogs on the move, healthy, happy and balanced.
Exercise earlier in the day or later in the evening
Outside temperatures are at their highest between the hours of 10 a.m. and 3 p.m. So earlier and later hours are best for exercise.
Use a treadmill
Training dogs on a treadmill is an effective method to provide owners and dogs with an exercise alternative when the weather or schedules present a challenge.
Swimming
Swimming is a low impact exercise for dogs to move their limbs, burn off excess energy, and, of course, have some traditional outdoor summertime fun. Bring a ball for the dog to fetch, and jump in the water with the dog to make the exercise more enjoyable.
Sprinklers
Play a game of chase, fetch or kickball with your pup–and keep a sprinkler running.
Hike smart
If one is going for a hike, walk or jog, pick a spot that has a good supply of shade and a clean, natural water source like a lake, creek, stream or brook. Dogs can jump in the water and lap up the water if the dog becomes overheated. There are two water rules to remember, though: Don't drink the stink, and if it's clear, have no fear. If outdoor water has a peculiar odor, is stagnant or if there is anything questionable in the water, don't use it. If water is clear, moving and appears to be supporting a healthy ecosystem, then it should be good to use.
Bring water
When heading outside for exercise, a walk, a hike, a jog–bring along some bottled water.
Mind the paws
Just as people's feet can be uncomfortable on hot pavement—dogs can feel the same. Be aware about the location of outdoor exercise and the time of day. A good rule is to stick to dirt paths, trails and grassy areas during the periods of peak temperatures during the day.
Several short exercises
Since dog owners may not be able to take longer walks or runs with their dogs, exercise in shorter bouts. Four 15-minute walks or five 10-minutes walks are just some suggested methods.
Doggie daycare
Take dogs for a day, or for an hour or two, of fun at a local dog daycare facility. These centers offer exercise, socialization and fun for the dog at a central location.
Go shopping
There are several stores, including Home Depot, Lowe's, Pet Smart and Petco, and local dog boutique and supply stores, that will permit dogs. Check with the store before you go, of course. Larger stores such as Home Depot and Lowe's offer more space to roam and they provide an opportunity to work with your dog on basic socialization skills and training in a public space.
This article was originally published in our Summer 2014 print issue.
Article by Kimberly Artley