Enduring Chronic Disease With The Help of a Support Dog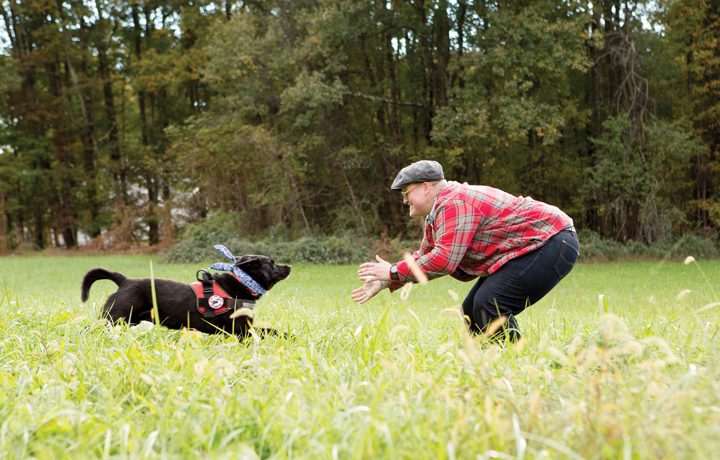 About two years ago, Kellie started to get sick. At first, the doctor said she had tonsillitis. Then they thought she had shingles. Nobody could figure out what exactly was going on, but whatever the disease, her symptoms were getting progressively worse. Kellie began to suffer from tremors, memory loss, loss of function, swelling, and massive pain.
More theories poured in: a stroke, multiple sclerosis, Lyme disease. She went to the ER about five times in one month from agony. Eventually, her speech deteriorated, she had vertigo, and even heart failure. It got so bad that at one point, Kellie needed to walk with a cane and could no longer feed herself.
After three spinal taps, nerve conduction tests, and carpal tunnel surgery, Kellie was diagnosed with Lupus, an autoimmune disease. She began Lupus medication and a small dose of chemotherapy. Kellie is a fighter, undeterred by the lifelong condition. Though she couldn't work at times, her business, Sally Forth Supply Company, continued to boom and has picked up speed again as she rediscovers her love behind the sewing machine.
Tell us about yourself
I'm Kellie. I'm 36 years old. I have two dogs, Charlie Chan, my support dog, and Doc Holliday. I started my sewing business about five years ago. It was born out of necessity because I saw a void in the market, and became a form of therapy for me.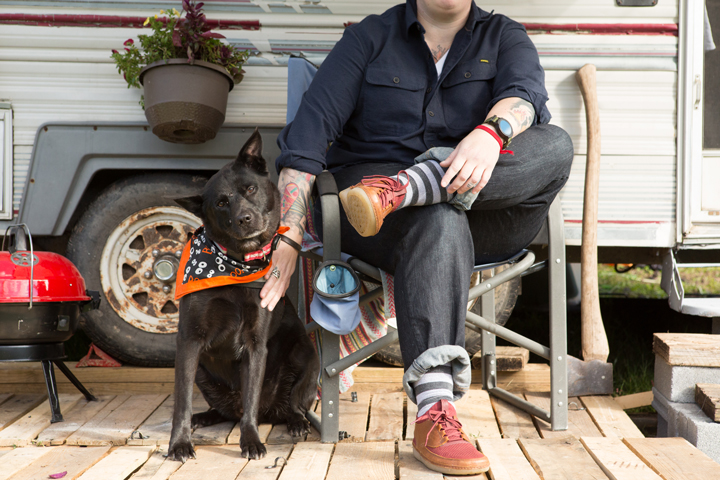 Prior to my illness, I lived in Nashville and managed a bar. I would routinely come back to Frederick to visit my parents and participate in pop up shows and craft fairs. My illness made me permanently settle here in Frederick, which was a blessing in disguise. In April, I bought a travel trailer, moved out of my parents house, and built my sewing studio inside. I make everything from bags to accessories, aprons, neckties, and more. I've been on my own, which has been difficult with my physical and mental slowness and pain, but working on the house and my sewing helps keep me positive and moving.
What has been the hardest part of your health journey?
Reaching out for help has definitely been the most difficult part of this entire experience. I was always a very independent woman. For example, I was captain of my rugby team, I did camping excursions by myself, I worked full time, and then all of a sudden I couldn't even lift a carton of milk or feed myself. I had to learn how to cope with the new person I'd become and not compare myself to who I was prior. It's taken a while, but I've finally accepted that I have no control over my illness and it does not reflect who I am. Always remember that.
What advice would you give someone who was going through something similar?
Finding a peer group is really important whether it's online or through local meetings. Don't just rely on your family and friends. When you're diagnosed with a chronic disease, you'll get angry and go through a grieving process. It's not fair to put all of that emotion onto your loved ones; you have to spread it out. It's just as difficult for your family to watch you deal with the disease and struggle. You also have to be your own health advocate. You are the only person who is 1,000 percent invested in yourself and your future. This is your life. If you think something is wrong, keep at it until you find the reason. Your doctor does not know everything about everything, but you have a front row seat to your experience.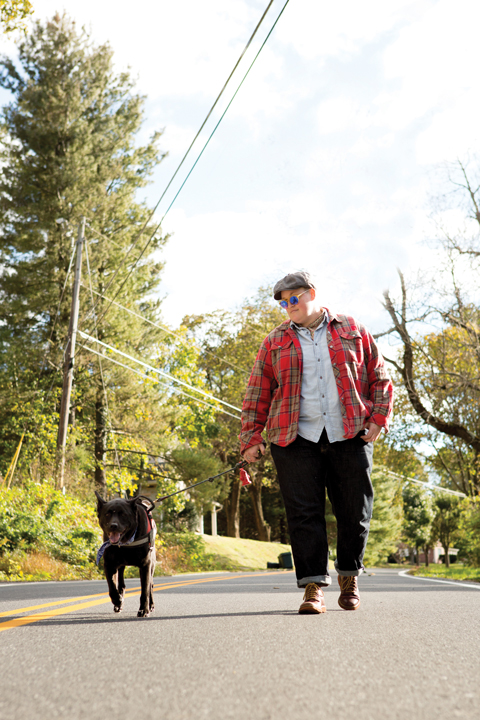 How does Charlie help you?
Charlie helps me with all sorts of things, like tremors and what I call "walking blackouts." Now that I've figured out the symptoms before they come on, I focus on Charlie and he slows my thought process down. He wears my medical ID bracelet. He helps me go up and down stairs. Charlie even taught himself to help me pull shopping carts! He remembers how to get back to our car from a store in a crowded parking lot. He's a really funny dog, and when I'm feeling my worst, he will come put his paw on me. He's really good at cheering me up and can tell when I'm not good or stressed. I'm really lucky to have Charlie.
What advice do you have for someone who is considering using a support animal?
Do it! If you're lucky enough to already have an animal that is socialized and listens to you, maybe you can get them certified, which is what happened with Charlie. There is a list on ADA.gov that explains the qualifications of the support animal. It lists what their temperament should be and what you need to do in order to have that animal certified. You can also adopt a rescue and train it. You don't have to spend thousands of dollars.
How are you using your story to help others?
I've noticed that helping others and sharing what I've learned has been really beneficial to me. I've learned so much through this process; I like to help people realize what resources are available and how to find them. Utilizing a case manager really helps, for example. I have a smartphone and smartwatch now to help me with reminders, but I wouldn't have had any of these things in place if it wasn't for my case manager. Many people don't realize they can go to therapy for memory problems, too. There are ways to cope when that happens. It's also important to stay positive, even on the crappy days. You can't give up, you have to keep going.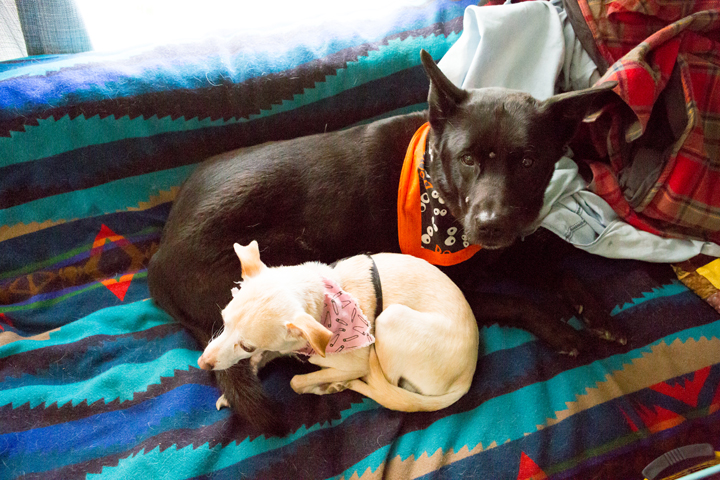 What's been the biggest motivator for you when things get hard?
I've been in car accidents, my house burned down — a lot of things have happened where I could have or should have died. So, I'll be damned if this is the thing that's going to get me. Honestly, getting sick was the best thing in my life. I've become a kinder, more patient person. Now, I am actually living life as my true self, and not pretending to be something else. And on my shittiest of days, I always look at my dogs and know I have to keep on going. They need me.
What three words best describe you right now?
Good-natured. Tenacious. Practical.
You inspire us — who inspires you?
One of my friends back in Nashville has a similar diagnosis. She's a doctor and does competitive pole dancing. She'll vomit while video chatting with me and then she goes back to pole dancing. There are also two instagrams accounts of Lupus warriors and chronically ill people who inspire me. One woman, Porochista Khakpourshe (@pshza), is attached to an oxygen tank and just wrote a book called Sick, a Memoir. She talks very openly about her illness. Another one I follow is a woman named Zoe (@activelyautoimmune).
_____
Connect with Kellie
Gofundme: kellievsherimmunesystem
Instagram: Sallyforthsupplyco
Website: sallyforthsupplyco.com
Email: Sallyforthsupplyco@gmail.com
_____
This article originally ran in Sass Magazine. All photos by Jessica Latos Photography.