The Pet Project: Portraits For a Cause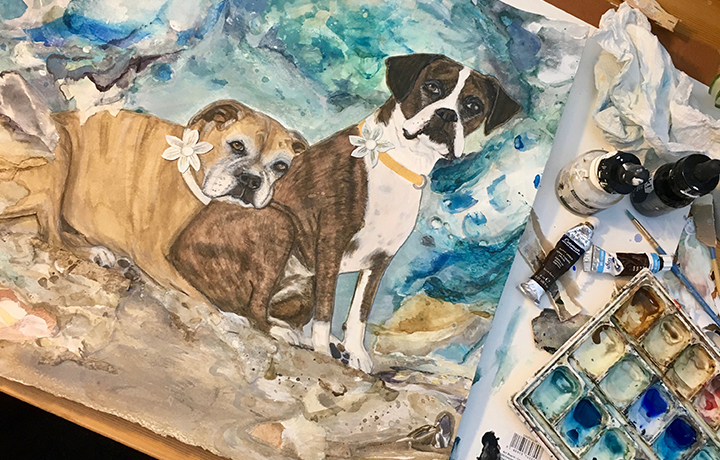 I'm Jaime Foster, an artist based just outside of Chicago. I have been creating and showing work in galleries around the country, over the past 11 years. I also run a small petsitting company on the side.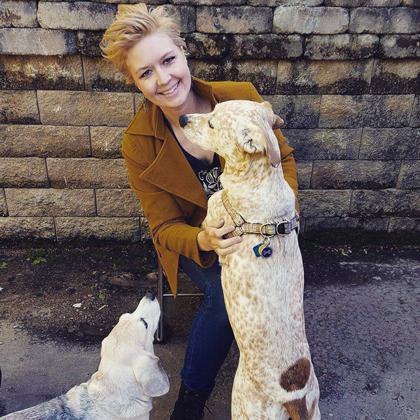 The Pet Project
I have always been an animal lover. I grew up rescuing turtles and ducklings off of busy roads, and raising baby birds. One time I rescued a starved, abused coonhound on my walk home from school! But it wasn't until my husband and I rescued our first dog together, Schroeder, that everything changed for me. That little blue-heeler beagle, with his stubby tail and mis-matched body, opened my eyes to the unconditional love that a dog gives. He showed me the importance of animal rescue.
When Schroeder passed, we decided to rescue another dog to help fill the enormous, gaping hole in our hearts. A few months later I came across a freckled, red-heeler puppy that was born deaf. He was being overlooked because of his disability and was the last of two remaining from the litter. I was smitten the minute I met him.
I didn't know anything about caring for a dog that couldn't hear, but with the help of Deaf Dogs Rock and researching signs on YouTube, I learned how to understand and communicate with my new friend. Linus now knows over 40 hand signs, ten of which he learned in the first two weeks we had him. He's incredibly smart! A year after adopting Linus, we knew he needed a companion, especially one who could essentially 'be his ears'.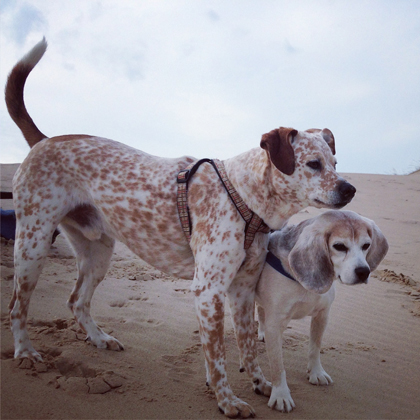 After discovering over 70,000 beagles a year are used for lab testing, I applied to foster through an amazing organization called Rescue + Freedom Project (formerly Beagle Freedom Project). We knew going into it we would more than likely foster to adopt. The day we brought Casper home, he was here to stay. The first year was a bit rough. Casper was nervous outdoors, loud noises scared him, and his little muscles and bones were brittle. He had spent his entire 4 1/2 years of life in a metal cage. Through a lot of patience, love, and learning how to be a dog from his brother Linus, he has come so far.
The call to do more
After reading story after story of all of the animal abuse and neglect in the world, I had to do more for animals in need. At the start of 2018, I turned my art focus toward animal portraits, donating 25% of sales back to shelters. So began The Pet Project! I first reached out to Rescue + Freedom Project, the organization closest to my heart. Since then, I have also teamed up with other rescue groups. Not only will we be promoting The Pet Project via social media, but will be hosting an art show which will bring people directly to the shelter.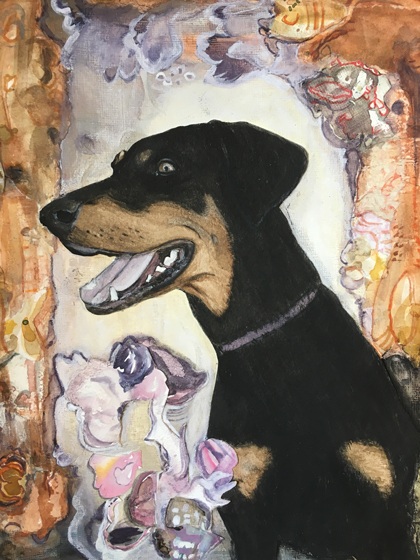 I'm open to working with any shelter or organization that has a good reputation and puts the care for it's rescue animals, first and foremost. I'm excited to see where all this leads. So far, I have raised close to $1500 dollars for various organizations. I hope to double this number by the end of this year. At this moment, it may only be a small impact, but I truly believe the good you put out in the world is multiplied.
The Pet Project Process
The process of creating my pet portraits is really something special. The mixed-media painting resembles more of a 3-dimensional collage appearance. I work from photographs to sketch your furry companion. I love providing people with a piece of art that truly shows off their pet's personality. Some clients request to have their pet's favorite toys be included, specific collars or accessories, or even adoption dates.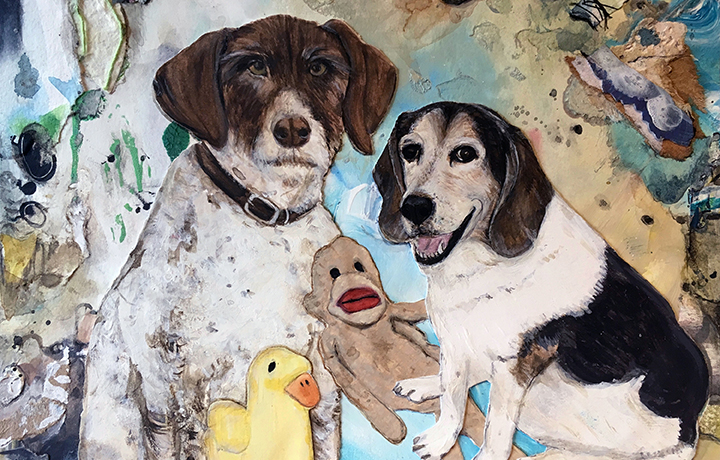 I use watercolor, ink, and acrylic to add as many intricate details as I can. I cut the animal(s) out and adhere them into the painted background and then incorporate collage and hand detailed elements. Since I'm working with paper-cutting and pasting the portrait, it raises the work from being completely flat, giving it a 3-dimensional quality. Finally, I shop and handpick a frame that compliments the finished portrait best.